Coördinators of the Student Consultation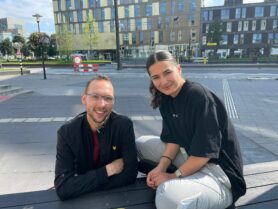 Hi everyone! This year we, Tom (22) and Suheda (21), are the coördinators of the Student Consultation.
As coördinators, we are the first point of contact for all students of the Student Consultation if there are questions about the Inspraak or education on our faculty. In addition, we deal with alot of the practical matters of the Inspraak such as planning and fascilitating meetings and organizing evenings for our members. We are also responsible for the promotion of the Inspraak and the reqruitment of most students in the consultation.
In any case, we will do our utmost to ensure that this year runs as smoothly as possible. Do not hesitate to contact us with any questions. You can contact us via our email adress studenteninspraak.fsw@uu.nl